Katie & Company, weekdays 10a-3p
MONDAY to FRIDAY -- 10:00 AM - 03:00 PM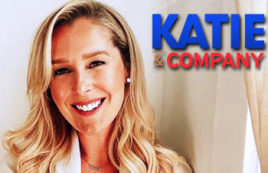 WMIX is getting much better lookin'!
Central Illinois native, Katie Neal brings 5 full hours of an ACM-nominated and Gracie Award-winning radio hosting that keeps you in the know about all things Country music. She brings a personal connection to the artists and the music that can only be described as genuine. Katie is always looking for a good laugh and a great deal and has an uncanny ability to bring her listeners into her life as if she is an old friend. When Katie's not on your radio, she's probably binging the latest trendy tv show, eating a mall pretzel in her car, or visiting some far corner of the world!
Katie was raised in the heart of the Midwest in the booming Metropolis of Bartonville, Illinois (just south of Peoria). She's very proud of her small-town roots but swears she was born to live in New York City. Her life looks a lot like a sitcom mash-up of Carrie Bradshaw meets Carrie Underwood, but with a much smaller closet. Katie, now a recognized Outstanding Alumna, began her radio career at Illinois State University in Bloomington-Normal. While there, she co-founded the university's first morning show "Wake Up Normal" which is still on the air today.​​
And as if that wasn't enough, Katie will bring you the SUPERSTAR POWER HOUR – Every day she spends an hour with some of country music's hottest stars as her co-host. They share stories and talk music and it is all part of the Katie & Company show package. Katie & Company, weekdays from 10-3 on Today's Hot Country 94.1FM, WMIX!