The Big Jake Show, weekdays 6-10a
MONDAY to FRIDAY -- 06:00 AM - 10:00 AM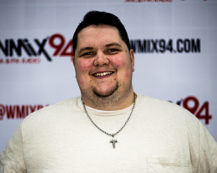 Well, hello-there! I'm Big Jake and I wake you up on 94.1FM from 6-10am every weekday.
My family moved from Illinois to Indiana and then back to Illinois in the first 5 years of my life. We lived in Salem for a year and then moved into the house I called "Home" for the next 16 years. I started 2nd grade at South Central Schools in Kinmundy and Farina, and that's where I would stay through high school. GO COUGARS!
I worked, some in radio, some in a few other places during my time at Kaskaskia College in Centralia to get my Associate of Arts degree while I decided what I wanted to do with my life. I always had a passion for Sports Broadcasting and was a talk radio weirdo even as a kid, so after I finished KC I made the decision to go to Southern Illinois University in Carbondale. The Dirty Dale treated me well and I left there with great radio experience between some campus programs and part-time radio gigs in 2016. I started at Withers Broadcasting Companies (WMIX) in October of 2017 and love being close to home again. I look forward to helping WMIX and the listening area grow in any way I can while I get the opportunity to be employed here.
I married my lovely wife, Kellie in 2018. We had our first child, a beautiful baby girl in 2019 and are currently expecting another one on the way in 2023.
Radio people tend to be long-winded so I'll shut up for now and we can get back to partying every morning, where I'll try to keep it as fun as possible.
Fun fact(s):
I was born in Ketchikan, Alaska….not even kidding, you can ask my Mom.