A new Women Owned Small Business Month Winner!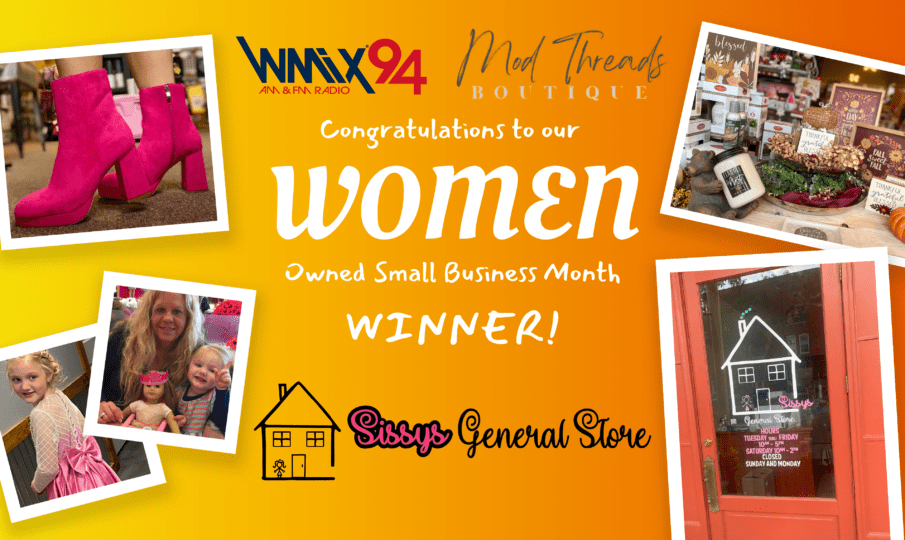 It's Friday and that means it's time for our next Women Owned Small Business Month winner! Once again, thank you to all who nominated your favorite women owned businesses. It really means a lot to them, seeing their community rally in support of their hard work and what they do for us!
Without further ado, Withers Broadcasting, WMIX, and Mod Threads Boutique have selected Sissy's General Store as our next winner! Congratulations!
Kathy Eickelman and her granddaughter, Delaney a.k.a. Sissy, opened Sissy's General Store in 2020 to share their favorite gifts and product collections. You may find Sissy checking the inventory, helping customers, and, of course, testing the goods! Characterized as having a warm and welcoming atmosphere, Sissy's has everything from shoes and clothes to spa items and much more! They have a large variety and everything you'd need for any occasion. Described as fantastic and inspirational, Kathy, with help from Sissy, works hard to create a shopping experience like no other!
Check them out at https://sissysgeneralstore.com/
And be sure to follow them on Facebook! https://www.facebook.com/Sissys-General-Store-109035277468427
Congrats once more to Sissy's General Store! Spectacular!
Keep watch for our next winner every Friday and keep the nominations coming!
Nomination Link Here: https://www.wmix94.com/women-owned-small-business-month/