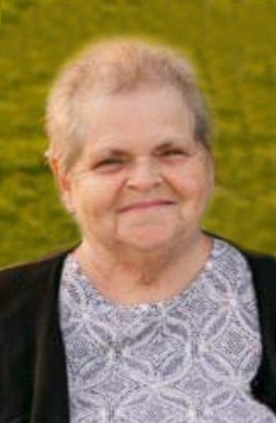 Anna Louise Marlowe, 79, of Mount Vernon, Illinois, passed away at 6:18 pm March 11, 2023 at SSM Health Good Samaritan Hospital in Mount Vernon.
She was born April 3, 1943 in Broughton, Illinois to the late Ira and Esther (Finkbinder) Brooks. Anna married Herman Marlowe on August 9, 1966 in Mount Vernon. They were married nearly 18 years before his passing on July 3, 1984.
Anna is survived by her children, Russell Marlowe of Mount Vernon, Tim Marlowe, Robin Marlowe and partner, Michael Rohdenburg of Elmhurst, Illinois, Kathy Marlowe of Mount Vernon, and Christopher "BoBo" Marlowe and special friend, Tess Barnett of Mount Vernon; grandchildren, Heather Lyell, Amanda Gasper, Lacey Barclay, Felicia Oliger, Joshua Phillips, Brett Phillips, Aaron Keele, Brittney Jamison, Kevin Vasquez, Jr., Keisha Kirk, Kristopher Vasquez, Kelsey Vasquez, and Kylie Marlowe; great-grandchildren, Bella Williamson, Madeline Marlowe, Breanna Moore, Hunter Hines, Jackson Hines, Zannah Frankfort, Franklin and Fredrick Oliger; great-grandchildren, Kayden Phillips, Emily Phillips, Kallie Vasquez, Evie Vasquez, Maverick Vasquez, and Carter Vasquez; two sisters, Jane Edwards and Mary McKee; sister-in-law, Linda Brooks; several nephews and one niece; and her beloved dog, CC. In addition to her parents and beloved husband, Anna was preceded in death by her grandson, Justin R. Marlowe; and siblings, Russell Finkbinder, Donald Brooks, Rose Bailey, and Linda "Squeaky" Brooks.
Anna worked for the Quick Clean Laundry Mat, Rax Restaurant, Opal's Restaurant, L and N Restaurant, and Fazoli's. She was a member of Hoits Addition Church in Mount Vernon. Anna was avid Chicago Cubs, 49ers football, and Illini and North Carolina basketball fan. She loved music, especially Prince. Anna was dearly loved and will be missed by all who knew and adored her.
A Visitation will be held Friday, March 17, 2023 from 5:00 pm to 8:00 pm at Hughey Funeral Home in Mount Vernon. A Graveside Service will be held Saturday, March 18, 2023 at 1:00 pm at Smith-Veterans Cemetery in Belle Rive, Illinois with Reverend Eddie Wheeler officiating. Interment will follow. Memorials may be made in Anna's honor to the American Heart Association or American Lung Association. Call Hughey Funeral Home at 618-242-3348 or visit hugheyfh.com for further information.