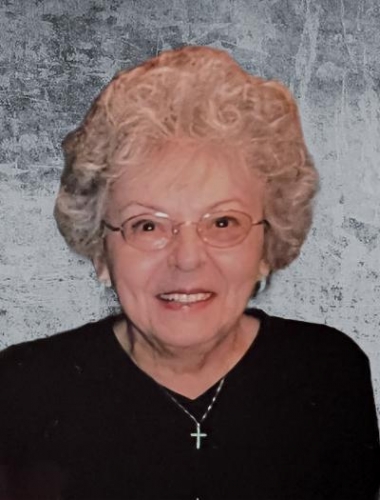 CENTRALIA — LaVerne Daum, 87, of Centralia, passed away Tuesday, March 7, 2023, in Centralia.
She was born November 27, 1935, in Hoyleton, the daughter of Otto Hartlipp and Amanda(Jones) Hartlipp. She married Wilfred Wilson Daum on August 6, 1954, in Hoyleton and he preceded her in death on January 19, 2012.
LaVerne is survived by her son: Dean Michael Daum of Centralia; daughter: Cheryl Cynthia Marsh and husband Myron of Broken Bow, NE; grandchildren: Adam Kuenning and wife Sarah of Omaha, NE, Michael Daum of Jeju, South Korea, and Kimberly Franklin and husband Dusty of Centralia; great-grandchildren: Amelia A. Kuenning and Violet Franklin; four brothers-in-law: Paul Meyer of Pacific, MO, Harold Daum of Granite City, Ronnie Daum of Nashville, IL, GaryDaum of Kincaid, IL; and several nieces and nephews.
LaVerne was preceded in death by her parents: Otto and Amanda Hartlipp; husband: Wilfred Daum; three sisters, and one brother.
LaVerne had a strong Christian faith and she loved to read her bible. She attended Central Christian Church in Mt. Vernon. She was a nurturing and loving individual. In her younger years, she enjoyed raising her children and later spoiling her grandchildren. She also loved her four-legged companions. She will be dearly missed by those that knew her.
Per LaVerne Daum's wishes, cremation rites will be accorded and a Celebration of Life Service will be held on Saturday, March 11, 2023, at Sutherland-Garnier Funeral Home in Centralia at 4:00 pm. In lieu of flowers, memorial donations can be made to Central Christian Church or Trinity Lutheran School of Centralia and will be accepted at the Sutherland-GarnierFuneral Home at 235 North Sycamore Street Centralia, Illinois 62801, which is honored to be of service to the Daum Family. Online condolences may be made to the family by visiting sutherlandfuneralhome.com and the Funeral Home's Facebook page.