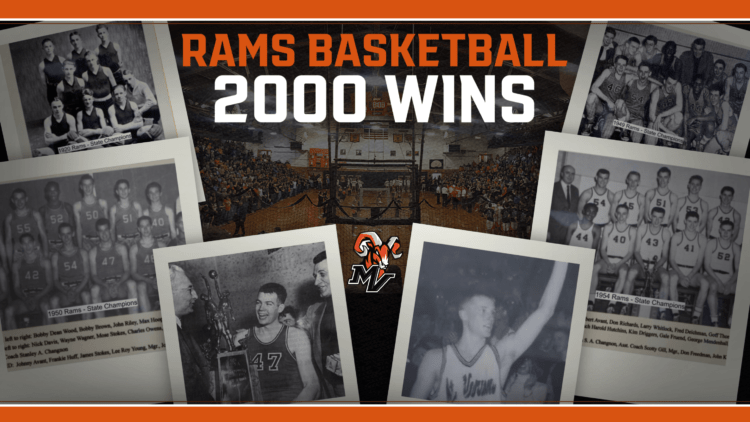 SALEM — Mt. Vernon Rams Basketball became the 10th boys basketball program in the nation to reach 2,000 all-time wins on Friday night with a 50-40 win over the Carbondale Terriers at Salem.
Mt. Vernon joins rival Centralia, as well as Collinsville, Quincy, and Pinckneyville among Illinois programs that have accomplished the feat. The Rams now have an all-time record of 2,000-1,020 and rank #10 overall in the nation's winningest boys' basketball programs.
The mark becomes yet another feather in the cap for Rams Basketball who now adds to its four state championships, 17 sectional championships, 46 regional championships, and 20 South Seven Conference Championships.
In the win, the Rams had 15 points from Navontae Nesbit, Jr, while Rolen Adams had 12, Colin McClure added 11, RJ King with 10, and Marlin Price added 2. Mt. Vernon plays Saturday for the Championship at the 71st Salem Invitational Tournament. Game time is 8:00 with pregame at 7:45 on 94.1 FM and the WMIX-FM feed on the Section618.com App.
Top 10 Winningest Programs (According to Maxpreps entering 2022-23 season. Only Mt. Vernon's record has been updated):
1. 2,336 — Dobyns-Bennett (Kingsport, Tenn.)
Years: 1918-2022
Overall record: 2,336-818
2. 2,322 — Centralia
Years: 1906-2022
Overall record: 2,322-982
3. 2,211 — Reading (Pa.)
Years: 1905-2022
Overall record: 2,211-785
4. 2,176 — Collinsville
Years: 1907-2022
Overall record: 2,176-893
5. 2,108 — Long Beach Poly (Calif.)
Years: 1907-2022
Overall record: 2,108-708
6. 2,070 — Blazer (Ashland, Ky.)
Years: 1921-2022
Overall record: 2,070-917-1
7. 2,056 — Quincy
Years: 1907-2022
Overall record: 2,056-794
8. 2,020 — Pinckneyville
Years: 1917-2022
Overall record: 2,020-828
9. 2,014 — Paducah Tilghman (Paducah, Ky.)
Years: 1911-2022
Overall record: 2,014-841
10. 2,000 — Mt. Vernon (Ill.)
Years: 1905-2023
Overall record: 2,000-1,020